IRONFLAME - Tales of splendor and sorrow / Lightning strikes the crown / all formats!
CHF

27.90
Coming soon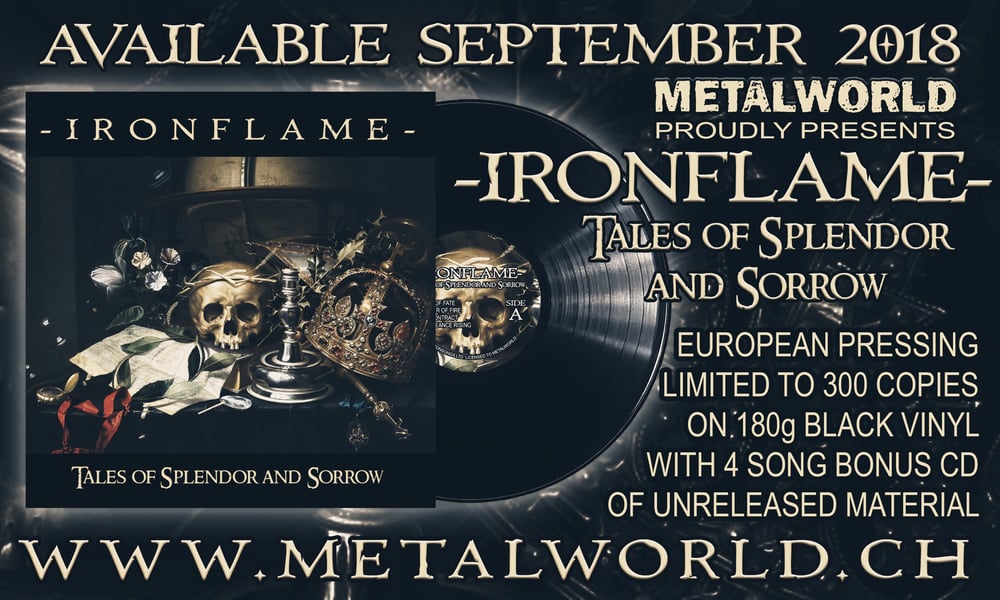 (for the repress of "Lightning strikes the crown" scroll down!)
Tales of splendor and sorrow (2nd album) - EU LP + CD-EP / US LP + 7" / CD
Check out some music:
https://www.youtube.com/watch?v=C6HsZDsXBe4
https://www.youtube.com/watch?v=4mWHPAheVko
2nd album of Ohio's finest US heavy metal. After their smashing live-gig at KIT 2018 they're back with a stunning new album on 180 g, black viny (8 tracks)l, with insert, hand-numbered to 300 copies and with an additional exclusive 4-track bonus CD-EP with 2 tracks only available exclusive on that EP with that vinyl! Get it while it's hot.
First 100 copies through our METALWORLD mailorder will come with an extra free IRONFLAME magnet!
US vinyl (8 tracks) also available, the first 200 copies have an extra 7" with 2 songs. (LIMITED QUANTITY available!!!)
CD available starting from around mid-october comes with 10 tracks (52 minutes)
US LP release: September 29th 2018
EU LP release: October 12th 2018
CD release (world): October 12th 2018
------------------------------------------------------------
Debut album of Ohio's finest heavy metal head and mastermind Andrew D'Cagna. Released very limited back in 2017 in the US and re-released with a bonus CD on vinyl through earlier this year and sold out shortly after their stunning performance at Keep It True we are more than honoured to bring back that masterpiece on vinyl.
The re-issue comes in a beautiful orange color, 180 g, hand-numbered 300 copies, incl. insert - just classy!
Release: +/- 29th September 2018